Edward (Ted) and Kathy Mabry
Operating Principal, Realtor Associate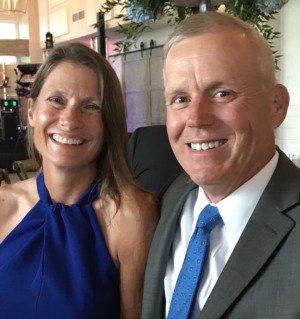 Realtor Associate:
SL3439309 & SL3468724
Ted and Kathy Mabry
Ted and Kathy are a dynamic couple with a passion for business, family, and community. Together, they've cultivated a lifestyle marked by success, hard work, and a devotion to excellent service.
Ted Mabry is an accomplished businessman whose career spans over three decades. After earning his degree from The College of Business at Auburn University, Ted embarked on an entrepreneurial journey by owning and operating The Buckwalsh Corp., a B2B printing and promotional marketing company partnered with Safeguard Business Systems. Serving as CEO from 1993 to 2018, Ted transformed the Boston-based business into one of the top three distributorships for Safeguard in North America. The expansion into multiple locations is a testament to his leadership and the collaboration of his dedicated sales team. Ted's business acumen and commitment to building long-term relationships with team members and clients have been key to his success.
In a new chapter of his career, Ted relocated to Naples, FL, where he launched the Briten Coastal Team with eXp Realty. His passion for sales and marketing now fuels a unique real estate experience for home buyers, sellers, investors, and professional Realtors in Southwest Florida. Ted's vision emphasizes serving "Clients for Life," a philosophy rooted in exceptional customer service and extraordinary market knowledge.
Kathy Mabry, Ted's wife of 32 years, shares in this vision and the enjoyment of life's pleasures, including golf, exercise, beach trips, and quality family time. The couple's two children, Brian and Kristen (and son-in-law, Alex), reside in Boston but visit Naples often, especially in winter.
Ted and Kathy are not only life partners but partners in striving to provide the best experience for their real estate clients and their team's agents. Their team-based, client-focused approach ensures that client's needs are handled with the highest level of service at every stage.
The Mabrys believe that the true key to a successful real estate transaction lies in expert advice and exceptional execution. Through a staff of specialists, they work together to ensure a seamless moving experience for their clients, aiming to give them an unfair advantage over other home buyers and sellers in the area.
Ted and Kathy Mabry's story is one of ambition, dedication, and a love for what they do. Their synergy in both life and business is an inspiration to those seeking to create meaningful connections and success in today's competitive market.